Serving The Metro Area Since 1970 Alexandria, Arlington, Virginia, Capitol Hill & Northwest Washington, Bethesda, Chevy Chase, Maryland
Specializing in:
Quality Interior and Exterior Painting
Plaster Repair and Drywall Repair
Wall Plastering, Ceiling Plastering
Stain and Finishes
Paperhanging, Wallpaper Removal
Kitchen Cabinet Painting
Highest Quality Workmanship & Materials
Licensed & Insured
Work Guaranteed
Excellent References
Google Review by Alice

The Winkler crew is terrific. They come when they say they will, work hard on the job, and do excellent work. They understand the importance of preparation such as scraping and sanding. And they have an excellent carpenter who seems able to fix almost anything.
PAINTING & DECORATING
Exterior Painting
Interior Painting
Wallpaper
Repair
Restoration Plaster Repair and Drywall
Serving the Washington D.C Metro Area
Highest Quality Workmanship,
Dedication to Satisfaction
CALL US: (703) 836-4432
To Inquire about our
Services or Request an Estimate,

CLICK HERE »
Accurate Estimates, Exceptional Results
We also specialize in painting churches. Ask us for a list of the local churches we have painted. Please call for an estimate at no cost or obligation.
Method
Winkler is happy to provide a free estimate with no obligation. Winkler requires progress payments along the way, with the balance due upon completion.
Power Washing
The old paint surface must first be power washed to remove dirt, mildew and algae. This will help insure that the new paint will stick.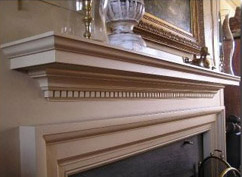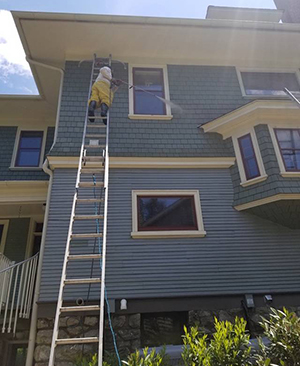 A proper paint job requires that the old paint be scraped and sanded where needed. Anywhere there are paint problems the Winkler painter must scrape and sand down the surface as close as possible to the bare wood.
A Winkler paint job is an investment in your property. Winkler explains that once you have your surfaces scraped and sanded down, you will probably not have to do it again in your lifetime.
Best Quality Paint
Winkler Painting uses the highest quality paints including Benjamin Moore, Pratt & Lambert and C2. The Winkler slogan is "Highest Quality Workmanship, Dedication to Satisfaction."
Winkler works closely with electricians, plumbers, faux finish experts, plasterers, drywall repairers, gutter repairers and cabinet makers. Winkler Painting can refer you to the experts that he trusts and works with.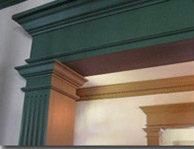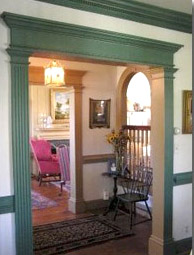 The key to achieving a high quality, long lasting paint job, both on interior and exterior work, is in the preparation. Winkler Painting exerts the greatest effort in restoration: scraping, heavy and fine sanding, repair of imperfections in plaster and drywall, removal of heavy paint buildup from problem areas (such buildup often causes alligator scaling and peeling), restoration of window glazing and caulking.
If you are interested in high quality workmanship with attention to preparation and detail, please call Winkler Painting directly for an estimate on your painting and decorating needs. You will find him and his skilled crews to be very courteous and reliable craftsmen to work with.
Winkler has been a painting contractor since 1971 and has many happy customers all around the Washington DC area, including Chevy Chase, Bethesda, Potomac, Alexandria, Arlington, McLean, Falls Church, and Great Falls.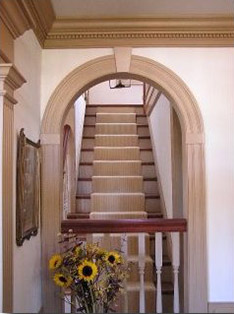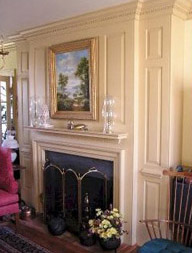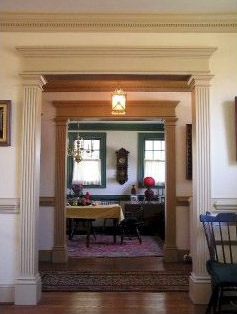 Client Testimonials
"Everyone at Winkler Painting was a delight to work with. From the start they were easy to schedule, and quick and competitive with thier estimate. Painters were kind, professional, and thoughtful as they worked around our home. Edwin, the onsite manager, was excellent. We are happy with the finished product. Thank you Winkler Team!"
- Holly, April 26, 2023
---
"The Winkler crew took on a job that was over my head, making major drywall repairs around newly installed windows and doors and painting the entirety of our family room. Their attention to detail and pride in workmanship was truly remarkable. They delivered a showpiece end product that we could not be more pleased with. I cannot recommend Winkler Painting highly enough. "
- Jim B., April 24, 2023
---
"We have had Richard Winkler Painting tackle interior and exterior painting projects at out two story home in Cathedral Heights several times over the past twenty years. The company could not be more professional, proficient or patient in overseeing the painting projects. The workers were tireless in making sure each part of the painting project was completed to perfection be It the large exterior walls or a short railing at the entry way. When their busy day came to an end the crew would make sure all materials, paint cans, ladders and the like were neatly stored away. We could not be more pleased ."
- Peter & Carole Spalding, May 19, 2022
---
"We recently had a wonderful experience with Winkler Painting. Cristina Winkler, the company owner, was a pleasure to work with and provided us with a fair and reasonable price. Her outstanding crew was very professional, always on time, cleaned up their work areas at the end of each day, took great pride in their work and delivered quality services. They provided excellent input on paint colors and types for our house, shutters, back stoop and metal sunroom roof. They paid attention to every detail when painting the exterior of our home. They meticulously scraped and repointed brickwork, primed and painted the exterior of our home, and transformed two wooden doors that were a peeling mess to look like new. We are very satisfied customers who highly recommend Richard T. Winkler, Inc."
- Laura and Larry Livesay, January 1, 2022
---
"Cristina and her team did an amazing job! We recently purchased a home built in the 1920's that was in need of some TLC. The Winkler team meticulously cleaned, scrapped, sanded and painted the exterior of the house. The team was polite, professional and extremely responsive. Cristina was very attentive any time we had a question and was a pleasure to work with. We will use them again and I would highly recommend Winkler Painting."
- Jim G., December 19, 2021
---
"I highly recommend Cristina and her team. The work they do is top notch and they are incredibly helpful and easy to work with from the estimate phase right through to completion of the project. We have used them for a range of projects on our home and we are very pleased."
- Jane H.T., March 31, 2021
---
"Winkler Painting is an outstanding company. I have rarely found service of the quality Cristina Winkler provided. The job I hired her for required more than painting: the ceiling in my mother's basement was disintegrating, crumbling to the floor. Ms. Winkler responded to my initial inquiries promptly. After inspecting the ceiling and assessing what would be required to repair it, she sent me a proposal that clearly stated what the work would entail as well as time and cost estimates. The people who did the work were highly skilled. They not only repaired and painted the ceiling, but they also painted the walls so that the ceiling wouldn't look separate from the rest of the room. As they worked, they made sure that no debris or dust left the basement. When they completed the job, they cleaned up thoroughly. Ms. Winkler sent me before and after photos so, even though I live far away from my mother, I could see how bad the ceiling was and the quality of the work Winkler Painting did. The job ended up requiring fewer hours than expected and, therefore, costing less. What impressed me as much as the excellence of work was Ms. Winkler's kindness to my 101-year-old mother. I highly recommend Winkler Painting. Working with Ms. Winkler and her crew was a joy."
- Jean L., March 18, 2021
---
"I would highly recommend Winkler. Every part of the job was professionally handled--from the estimate to the final walkthrough. They tout their attention to detail with prep work, and they really deliver on that promise--very important on a mid-1800s home. Cristina (the owner) and Edwin (the foreman) were communicative and on time, the project was on budget, and the finished product is top notch. We had multiple bids for the work, and while you will pay a bit of a premium over some other companies (to be fair they also were not the high bid), the quality of work and materials used makes Winkler a great value. I will be using Winkler in the future."
- Jack E., October 30, 2020
---
"The Winkler company provides exquisite home painting. Their workmanship is outstanding. They take excellent care of our home, covering our floors completely to protect them, and doing careful and detailed prep work to ensure a smooth finish. My walls look like velvet; the trim has the perfect glow.
We've been using them on our townhouse for two decades, and they have worked on helping us remodel an apartment as well, involving extensive patching and drywall repairs before painting. We trust them immensely. They are the best around! "
– Patricia M., September 30, 2020